Beautiful paintings by Tony Sánchez
http://www.tonysanchezart.com Blue Throated Macaw and many others.



Progress in Understanding Proventricular Dilatation Disease


http://members.tripod.com/Grey_PoopOn/Ritchie.html



Pooh" is on Coffee Mugs, T-shirts, Tote bags, Note Cards, and can be put on just about anything. This picture was done from a baby Umbrella named Pooh in the "porcupine" stage of development! The caption reads "Don't bother me, I'm having a bad feather day!". You can get your mug done with a picture of your bird on it. Go to http://www.treasuredfeathers.com/
to see more of Treasured Feathers Aviary & Art Works.


Up at Six Avian Site with information on Avian Articles, mailing lists and behaviors, plus more.
http://www.upatsix.com/

Vet Talk questions answered by Veterinarian Dr. Rosskopf and Chris Davis Avian Behaviorist

Bird Breeder On-Line. Features breeding, health and more.
http://www.birdbreeder.com/default.asp

Birds n Ways. Sites & information about a species of pet parrots or exotic birds. Wonderful articles by the top breeders in the world. Toys, information, articles and any information you might want.
http://www.birdsnways.com/

Birds n Ways Winged Wisdom. A magazine online for exotic birds & pet parrots. Articles on the care & Breeding of pet birds, pet parrots & exotic birds.
http://www.birdsnways.com/wisdom/

Update paper by Dr. Branson Ritchie presented at M.A.R.E. summer 1998. It also briefly covers PBFD and Polyomavirus. It may help with some questions. http://www.bevscape.com/mare/BransonRitchiePDDupdate.htm

The North American Cockatiel Society
http://www.cockatiel.org/

A wonderful link for everything you wanted to know about Cockatoos.
http://www.birdsnways.com/cockatoo/

Please help that lost bird find his way back home
.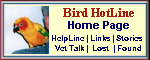 http://www.birdhotline.com/

http://members.tripod.com/~feathered_friends/

Some excellent resources to learn about your bird and to meet other bird people. Many friends have been made on these lists.
http://www.parrottalk.com/mlist.html

One of the best pages on Cockatiels I have seen http://www.geocities.com/Heartland/Acres/2117/

Here are the sites provided by Nancy O that have information about safe/unsafe things you would want to know.. Does anyone have any others to add?
http://www.exoticbird.com/gillian/
http://members.tripod.com/~Feather_Junction/hazard.html#hazards
http://netpets.org/birds/healthspa/toxic2.html
http://www2.upatsix.com/spbe/plants/
http://www.concentric.net/~conure/plants.shtml
http://www.multiscope.com
http://www.budgies.org/

Great information on abundance weaning.
http://shell3.ba.best.com/~sallypbr/abundance.shtml

If you want to find a certified vet go to www.upatsix.com/vet-lookup and find a state and it will list the vet I don't know how current this list is but it's a start

Bird Talk online http://www.petchannel.com/birds/default.asp

A Tail of Fire" Limited edition African Grey art print by Jean Pattison "The African Queen" http://www.parrottalk.com/art.htm

Article about wing clipping. Explanation and a diagram explaining the clip at a link from http://www.ParrotTalk.com in the "articles" section. The article is entitled "Wingclipping & the African Grey."

Article in Winged Wisdom by Bobbi Brinker about switching a bird from seeds to pellets. WW is at http://www.birdsnways.com/wisdom/ww26e.htm

Avian Behaviorist you can contact:
Layne Dicker:ldicker@EARTHLINK.NET
Liz Wilson: :Lwilsoncvt@aol.com
Sam Foster: : Cocka2s@aol.com

Recipes for your birds: http://www.parrottalk.com/recipes.html

Wonderful Articles just about everything you would want to know: http://www.parrottalk.com/articles.html

Annual Well Bird Exam by Dr. Lisa Paul http://www.birdsnways.com/wisdom/ww10eii.htm

Life after Weaning by Bobbi Brinker http://www.birdsnways.com/wisdom/ww6e.htm

Hazards and care of your bird
http://birdsnways.com/wisdom/ww29eiii.htm

A Site with more information then you can hope for. Plan to stay awhile.
http://www.parrottalk.com


One of the best books on care and nuturing and feeding of a Grey Parrot. Written by Bobbi Brinker
For the Love of Greys




Bobbi Brinkers way of growing sprouts

I like short tails on the sprouts. If they are too long, then the
sprouts will be bitter.

Most often I soak the sprout mix in water - starting in the early
afternoon. I rinse them and change the water several times during the
day; then soak them in fresh water overnight. In the morning, I drain
off the water, rinse well, and give to the birds.

If I start the sprouts earlier in the day, then I do the same thing
until I go to bed. Then I rinse well and put the jar on an angle
overnight. Then in the morning, I rinse well and give them to the birds.



http://www.missingpet.net/anlost.html Site to report missing pets. It is national and international.



[Introduction] [Parrot Links] [Parrot Descriptions] [Home] [Babies] [Macaws] [More Pictures]